It is said that a deep-seated fear of death fundamentally underlies all the varieties of human behavior. I considered this often during the 31/2 years my wife and I shared together following her ovarian cancer diagnosis.

We found that by making pictures of our experience as we faced her life-threatening illness we seemed to wring the most life out of our time together. Making pictures of her allowed us to work very closely together in a physical way that appealed to our aesthetics. It was fun and challenging.

Perhaps we were trying to transmute the energy of fear into that of beauty. Perhaps we were just curious what would result if we used her illness as a subject, but put it in a context of play. The play was often influenced by my professional work as a wildlife veterinarian and our awareness and sadness at the loss of earth's species diversity. We also shared an appreciation of the history of photography and it was rewarding to place some of our work in the context of photographers who had gone before us. This led to an homage to one of the earliest known photographs, made by the Frenchman Bilordeaux ; a nod to Irving Penn here, the influence of Jerry Uelsman there. Doubtless, I was trying to hold on to what was dear to me and to what would disappear. But mostly we just responded to changing circumstances and feelings. We honored our desire to be together making something, a process that seemed to expand the moment.

Today the pictures for me are more than an antidote to forgetting. They are a catalyst for knowing the depth of trust, affection, intimacy and values we shared.

Here are six chapters of pictures:
---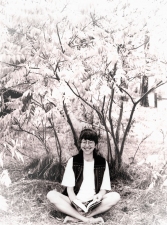 Before
This is what should be accomplished by the one who is wise, who seeks the good, and has obtained peace. Let one be strenuous, upright, and sincere, without pride, easily contented and joyous.


- from the Meta Sutta
---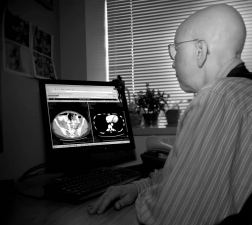 Strong Medicine
Marilyn was a family physician. She loved the human elements of family practice. She was less enamored of fancy technology and techniques and didn't want them to intrude on a personal connection with people. She was good at listening closely to patient's stories, and looking for ways to involve patients in shaping their quest for health and harmony. She thought being open about her own life, making her own story available, was a part of this role. She wanted these pictures to serve that aim.
---
---
---
Chemo Coiffure
Marilyn never did care for wigs. When she began loosing her hair, she thought it would be fun to keep it for as long as possible as a classic mohawk. When that became impossible to maintain, she opted for the simple smooth and shiny look. I think she looked good that way. I administered the hair cuts. It was somewhat fun for both of us the first couple of times. By the third year, pictured here, she was getting tired, and it wasn't so much fun anymore.
---